To book the Prestige please email us at Lodging@redresort.com or give us a call at 1.877.969.SNOW (7669) (toll-free) / 1.250.362.5553 (local)
To book your room at The Prestige, please give us a call at 1.877.969.7669!
Prestige Mountain Resort in the charming city of Rossland is situated between the Monashee and Selkirk mountains. The resort is an ideal destination for family vacations and outdoor adventures. After a day of hitting the links or skiing, escape to the comfort and elegance of your guestroom, indulge in the culinary offerings at the onsite restaurant, or sink into the hot tub to unwind. This resort features deluxe guestrooms, meeting & banquet facilities, sauna, indoor hot tub, and fitness centre.
Our standard queen non-smoking guest room includes a pillowtop mattress, complimentary WiFi, mini refrigerator, premium linens and HD TV
Our standard 2 queen non-smoking guestroom includes pillowtop mattresses, complimentary WiFi, mini-refrigerator, premium linens, and HD TV.
Arcade
Hot Tub & Sauna
Complimentary Shuttle Service to RED Mountain Resort
Fitness Room
Laundry
Seasonal Sport Equipment and Board Games
Ski Lockers & Tuning Table
Wi-Fi
Hot Tub & Sauna
Our hot tub is open from 8am to 11pm. Towels are located at the hot tub and are for guest use. Please note that there is no lifeguard on duty, so guests 16 years or younger must be accompanied by an adult. We have a dry heat sauna available for guest use as well. This is located by the hot tub and has a 6 person capacity.
Ski Shuttle to RED
Staying with us on a ski trip? We're happy to cover the costs associated with the shuttle bus to/from RED Mountain Resort! Simply book one of our Ski and Stay Packages, or book direct with us by phone or on our website and pay our 'best available rate' and your shuttle service is on us!
Arcade
We have a coin-operated arcade available for guest use. It is equipped with table hockey, table football, air hockey and pinball machines. Hours of operation are 9am to 10pm.
Endless Activities
Summer outdoor enthusiasts can experience Rossland year-round; with The Prestige being the perfect base to enjoy scenic hiking, fly fishing, horseback riding and mountain biking on more than 200 kilometers of perfectly maintained trails.

Welcome Centres
RED Mountain Resort Base Lodge
Red Mountain Resort Lodging Check-In
Big Red Cats
Red Mountain Village
Legacy Training Centre Office
Fall Line Ski & Snowboard School / Get Lost Adventure Centre
Deane Cabin
FRESH
Accomodations
Slalom Creek
White Wolf Cabins
Silver Tip Lodge
The Josie Hotel
Nowhere Special Hostel
RESTAURANTS
Rafters Bar, Sourdough Alley Cafeteria, Keen Coffee
Deane Cabin catered dinner bookings
FRESH Cafe & Apres
The Velvet Restaurant and Lounge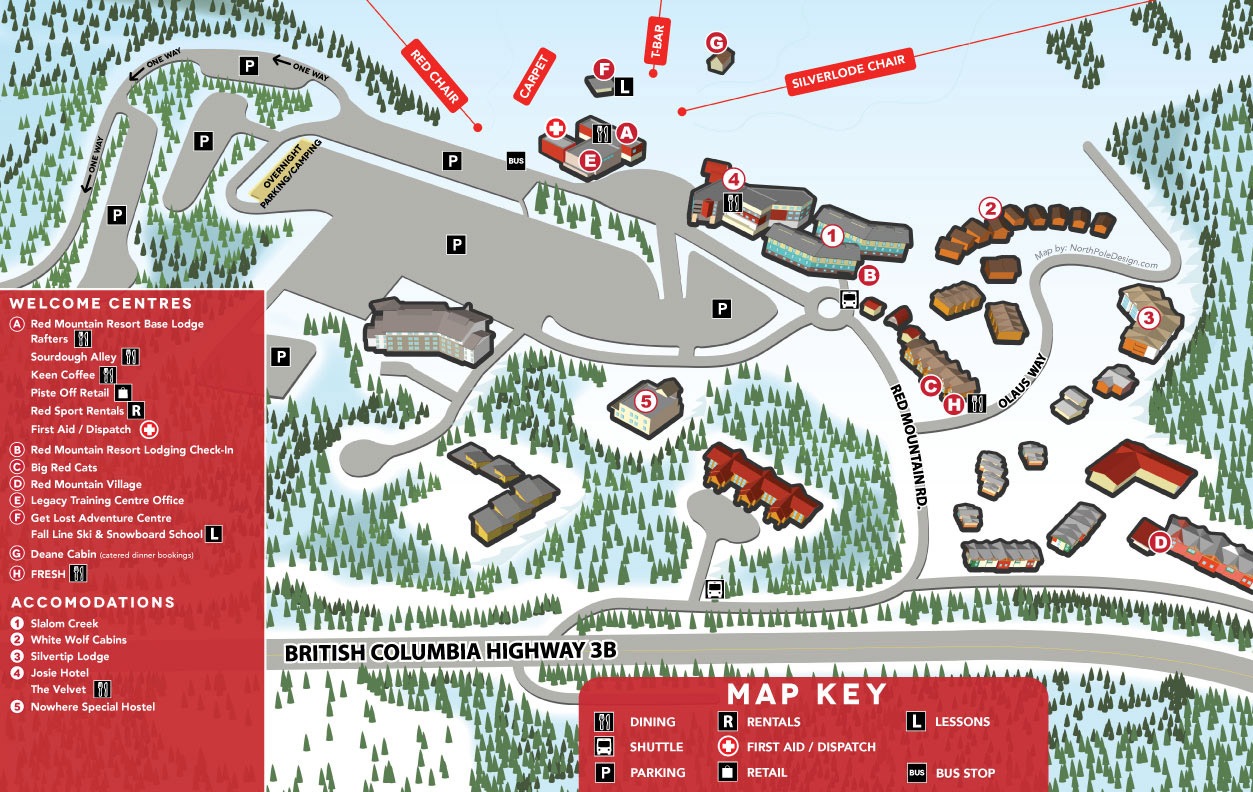 Discover other properties